Cost Effective Vents For EMI/RFI Shielding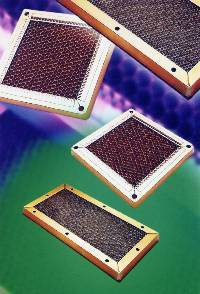 More than 80 standard sizes of vents are in the TBAECP range of EMI/RFI shielding. Designed as simple screw on panels, ECP 8000 series aluminium shielding vents are available with several styles of frame and allow designers and OEMs an easy solution for protecting airflow or lighting apertures. According to TBA ECP, the standard sizes are pre-tooled with either drilled holes or threaded inserts provided for fixing, enabling users to avoid the cost of special tooling that would be needed for a custom design. With 80-plus standard versions, users will be able to closely match their requirements by designing their aperture to fit the shielded vents available rather than designing a custom vent to fit the aperture.
Standard construction of all vents comprises an aluminium honeycomb in two 6.3mm thick layers with a 3mm cell diameter, laminated in a cross cell construction and contained in a peripheral extruded aluminium frame. Optional frame styles are flat or with groove depending on type of seal required.
A variety of finishes is available encompassing chromate, tin and nickel for standard honeycomb versions, providing attenuation levels from 60dB typical for chromate up to 115dB typical for nickel (1GHz plane wave). A chromate finish with cross cell honeycomb version provides 90dB typical attenuation (1GHz plane wave).
Fan apertures can be shielded with the ECP 8200 series standard shielded vents where enclosures require EMI shielding combined with maximum airflow. These vents feature a 6.4mm single honeycomb layer with 1.6 or 3mm diameter cells held in pre-drilled rigid aluminium frames with a conductive chromate finish. Five sizes are available to match popular standard fan sizes and these vents can be supplied with optional dust screens if required. Fan vents are also supplied fitted with the company's ECP 625 beryllium copper gaskets as standard.
ECP 8300 series Quiet Vents are available in no fewer than 66 sizes and deliver an excellent low cost solution to the demanding cooling requirements of modern electronic equipment. The honeycomb panels feature rigid, extruded aluminium frames with optional captive fasteners or through-holes. Quiet Vents are supplied as standard with composite knitted gaskets that combine a neoprene gasket with wire mesh to provide efficient EMI/RFI shielding between the frame and mounting surface.
TBA Electro Conductive Products Ltd.
Unit 3
Transpennine Trading Estate
Gorrells Way
Rochdale
Lancashire
England
OL11 2PX
UK
Lancashire OL12 7EY, UK
Tel: +44 (0)1706 647718
Fax: +44 (0)1706 646170